Blake is Mr.Toko's friend. He worked in a gang of which Isaac was the leader. Austin was later shot in the head by Isaac himself, and died in front of Mr.Toko.
Although his name at his appearance was Blake, but he is well-known with the name Austin, so I will use this name to call him by in this article.
Informations
Edit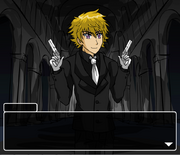 Full name: Blake
Real name: Austin Lockwood
Age: 22
Occupation: Unknown
Status: Deceased
Family: Unknown
Ex Co-workers:  *Mr.Toko: ???
Present-day Relationships: (at the time of his death)
Appearance
Edit
Austin had brown-ish yellow hair and purple eyes. At his appearance, he wore a black suit with white gloves and a white tie. His weapons were white short guns.
Austin's hair is pretty messy. He was also described by fans as a hot guy.
Personality
Edit
Austin is a person who could do anything for his friends, even when he know he's gonna pay a high price for doing so. He treasures his friendships.Even so, he is a friendly guy. He is serious most of the time, but he still is a funny guy.
He was Mr.Toko's best friend in the gang, and he wouldn't hesitate to help him even if he has to die for it. Unfortunately, Isaac ended his life with a bullet right in the head, and never did he had the chance to live a normal life like Mr.Toko did.
No further informations about his past were given.